Mr. Jamshyd Godrej is the Chairman of the Board of Godrej & Boyce Manufacturing Company
Limited. He graduated in Mechanical Engineering from Illinois Institute of Technology, USA.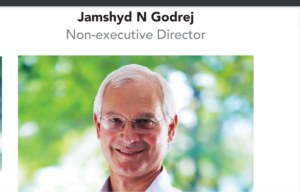 Mr. Godrej is the former Chairman of Ananta Aspen Centre (previously known as Aspen Institute India), Chairman & Trustee of Ananta Centre. He is the Chairperson of the Board of Directors of Shakti Sustainable Energy Foundation, India Resources Trust, Council on Energy, Environment & Water and CII Sohrabji Godrej Green Business Centre.
Date of Birth and Age: January 24, 1949 – 73 years
Qualification: B.S, IIT, Chicago, U.S.A
He is a Director of World Resources Institute, USA. He is a Trustee of World Wide Fund for
Nature – India. He is also a Trustee of the Asia Society, USA. He is also a member of the Board of Governors of the Centre for Asian Philanthropy and Society.
He is the Past President of Confederation of Indian Industry and also of the Indian Machine Tool
Manufacturers' Association. The President of India conferred on Mr. Godrej the "Padma Bhushan" on
3rd April 2003.